Anti Ageing Treatment in Andheri, Mumbai
Ageing is a part of life, and it usually starts reflecting from our skin in the form of diminishing glow, fine lines, saggy skin, and wrinkles. It is a concern for most people as everyone wants to look young and have glowing, smooth skin.
Luckily, it is now possible to minimize or reverse the signs of ageing with one of the best anti-ageing treatment in Andheri, Mumbai, at The Skin & Shape Clinic.
This state-of-the-art clinic is founded by Dr. Anju Methil, a prominent skin specialist in Andheri West. She excels in advanced anti-ageing treatments that ensures outstanding results. She has received several awards for her extensive knowledge and expertise in cosmetic medicine.
Continue reading about the different anti-ageing treatment in Mumbai at The Skin & Shape Clinic. But before that, let's understand
What is Ageing?
As we age, we notice signs of ageing in the areas around the eyes, forehead, chin, neck, mouth, and cheeks. It happens due to the loss of collagen and elastin, the essential component of our skin that provides firmness and elasticity to our skin.
Nowadays, unhealthy lifestyle, pollution, harmful sun rays, stress, harsh weather take a toll on our skin and, accelerate ageing skin and result in sunspots, uneven skin tone, premature wrinkles, and sagging.
Further, ageing skin is also the result of repeated actions such as frowning, smiling, squinting, etc., that cause permanent grooves over the years.
To prevent undesired skin changes, you need to start with anti-ageing treatment early on before the onset of fine lines and pigmentation.
At our ultra-modern skin clinic in Andheri, Mumbai, we offer a customized combination of specialized anti-ageing treatments to counter the effects of ageing.
When should you start with Anti-Ageing Treatment?
According to Dr. Anju Methil, one of the best skin doctor in Mumbai, people should start with anti-ageing treatment in their late 20s or early 30s. By doing so, you keep the wrinkles away for a longer time.
It is best you visit a dermatologist to plan an effective anti-ageing skincare regime to keep your skin looking supple, moisturized, and firm. Also, remember to use moisturizer and sunscreen regularly.
However, in this fast-paced life, people usually do not get the time to follow a skincare regime and suffer from the signs of ageing early on.
At The Skin & Shape Clinic, we have several advanced anti-ageing treatment in Andheri, Mumbai, which we have discussed below.
Top Anti-Ageing Treatment in Mumbai
Dermal Fillers
As we age, our facial volume decreases due to collagen loss, causing fine lines and wrinkles. The skin specialist uses dermal filler to fill out the wrinkles under the eye, near the mouth, and on the cheek to increase volume. They are also used as anti-aging hand treatment to plump them up. Fillers give instant results, with no downtime, and last for six months to three years depending on the substance used.
Dr. Anju Methil is one of the most sought-after skin specialist in Andheri West for her extensive experience and skills in dermal fillers.
Ulthera
Ulthera is one of the most preferred anti-ageing treatment in Mumbai that helps address the early signs of ageing, including sagging cheeks, excess skin on the eyelids, and loose skin on the neck. It works wonders for people having less skin laxity. It is considered a gold-standard anti-ageing neck treatment for delivering excellent results.
This non-surgical therapy uses sound waves to heat the tissues below the skin to stimulate them to produce new collagen. To notice the results, it will take around six months.
Micro Botox
Micro Botox or intradermal Botox is a micro-needling technique that uses small doses to repair the skin flaws and make it look more youthful. It is superficially injected into the upper layer of the skin and helps decrease pore size, acne scars, and wrinkles, providing natural-looking results.
Unlike the typical Botox, it does not smooth wrinkles caused by muscle contractions. The results of Micro Botox last for 3-4 months.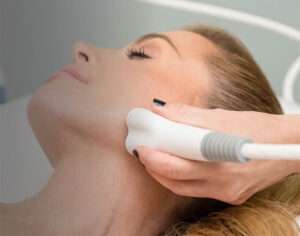 Radiofrequency
At The Skin & Shape Clinic, we offer our clients multipolar radiofrequency, a popular, cutting-edge anti-ageing treatment in Andheri, Mumbai. With zero downtime and minimal discomfort, this procedure delays the process of ageing and provides incredible rejuvenating effects.
Utilizing radiofrequency energy and muscle activation, it helps tighten the skin, reduce cellulite, stimulate collagen production, increase dermal volume, and reshape the body contour in a single session.
Thread Lifts
Thread lift is a less invasive, safer option than a facelift. It tightens your skin by putting medical-grade thread into your facial skin and then pulling and repositioning it. This boosts collagen production and neovascularization, renewing the skin at the cellular level.
Dr. Anju Methil is one of the best skin doctor in Mumbai for thread lift procedures, which tighten up your eyebrows, under-eye area, cheeks, and forehead.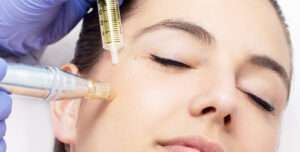 Skin Rejuvenation with Mesotherapy
Mesotherapy is an anti-ageing treatment that employs microinjections of antioxidants, vitamins, enzymes, and plant extracts to renew and tighten skin and remove excess fat. It also improves tired, dull-looking skin, superficial wrinkles, hyperpigmentation, and acne.
Apart from that, it cleanses the body of toxins by increasing blood circulation. Dr. Anju Methil, a leading skin specialist in Andheri West, is proficient in this procedure and ensures excellent outcomes.
Skin Rejuvenation with Peels
A chemical peel enhances the appearance of the facial skin, neck, and hands. It involves applying a chemical solution in order to exfoliate and gradually peel off the damaged outer layer of the skin. The newly visible skin is blemish-free and less wrinkled. The skin may be sensitive for a few days, so apply sunscreen and limit sun exposure.
Chemical peels are classified according to depth and efficiency. Dr. Anju Methil uses light, medium, and deep peels depending on the severity of the skin issues.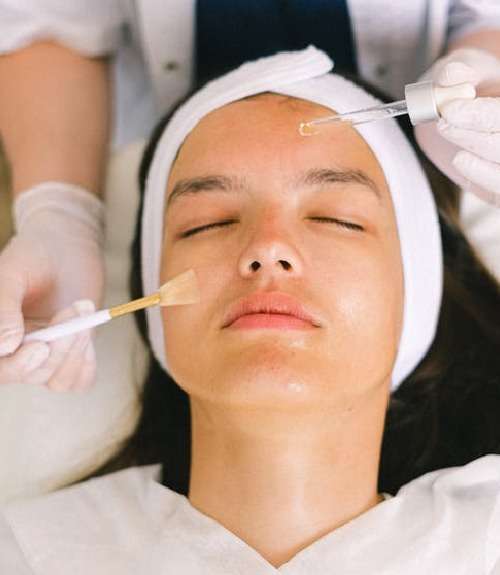 What is the cost of anti-ageing treatment in Mumbai?
The cost of each anti-ageing treatment in Andheri, Mumbai, at The Skin & Shape Clinic is different. It depends on the type of treatment you opt for, the severity of your skin issue, and the number of sessions you require.
To know the exact cost, you need to visit our skin clinic in Andheri, Mumbai, for consultation.
Why choose Dr. Anju Methil for anti-ageing treatment in Mumbai?
Dr. Anju Methil is recognized as one of the best skin doctor in Mumbai for her mastery in dermatology and cosmetology. She has more than 15 years of experience in this field. 
She has received extensive training from leading international dermatologists and plastic surgeons. Further, she keeps herself updated with the latest advancement in aesthetic medicine to offer her patients the same benefits. 
She provides customized treatments to each patient according to their requirement and specific need.  
Dr. Anju Methil only offers FDA-approved treatments that deliver safe and long-lasting results. All the equipment and products at her clinic are of the highest quality.
Videos of Dr. Anju Methil
What our clients say?
Doc Anju is one of the best dermatologist I have come across in these few years.. she is so good at her work and makes u feel on top of the world through her treatments. I can vouch my face and body on her hands completely for further treatments..

Dr Anju Methil is an very good Dermatelogist Got wonderful results for the treatment given to my Son It's a very hygienically maintained clinic Following all protocols so I knew my son was in safe hands. His first experience with a Dermatalogist was very good with good results .

I've been visiting Dr Anju since 2013 and I've always had a wonderful experience. The clinic takes good care of your requirements, very personalized and treatments are done carefully under professional supervision. The clinic is also highly hygienic.

Dr. Anju cleared up my severe skin rash in less than a month and is always there to answer any sort of questions I may have regarding my skin. She is amazing at reassuring me whenever I need her support. Very accurate with her prescriptions. Always a satisfactory result.

Dr Anju has always been amazing with her analysis of my issues related to skin and hair and her medications work on point specially for someone like me who has oversensitive skin. She listens patiently and is very confident with her prescriptions.

Dr Anju Methil has been a savior for me !! She is an excellent dermatologist. She is extremely knowledgeable and very friendly. She is also patient with all my questions and always gives me the correct advice.

It's very amazing to have such great skin Doctor. All the treatments are conducted under professional supervision. The clinic is very hygienic and safe. The staff are really very cooperative and supportive.

Dr. Anju Methil is excellent in skin and hair care... the clinic and the staff is very welcoming and warm... Me, my daughter and my mother-in-law have been their clients for the past 3 years and have always had a satisfying experience

Dr. Anju Methil is a very sweet doctor she is very courteous and excellent with her treatment I have never faced any problem after under going her treatment.She is very friendly in approach .
Frequently Asked Questions
The best anti-ageing neck treatments for loose skin are Ulthera, multipolar radiofrequency, thread lift, Micro Botox, fillers, mesotherapy, and chemical peels.
Pre-mature skin ageing can happen due to UV radiation in the sun, stress, unhealthy lifestyle, pollution, and excess nicotine and alcohol consumption.
Uneven skin tone

Visible pores

Dull and rough skin

Fine lines and wrinkles

Age spots

Saggy loose skin