Polycystic ovarian syndrome (PCOS) is a common hormonal imbalance condition that affects around 15 percent of women of reproductive age.
The ovaries produce excessively high levels of androgen, which are male hormones. This causes an imbalance in the reproductive hormones resulting in irregular or missed menstrual cycles, acne, infertility, excessive facial hair, etc.
Dr. Anju Methil, a well-known dermatologist in Andheri, Mumbai, says that as skin and hair are involved in this condition, dermatologists are usually the ones to diagnose PCOS in patients, especially young women in their early twenties, who are concerned about the aesthetic symptoms, such as facial hair, acne, and pigmentation.
She further explains that to successfully manage PCOS, it has to be treated in sync with a gynecologist and dermatologist. The gynecologist will give medications to correct the hormonal imbalance, which will greatly help resolve the cosmetic issues.
You can contact Dr. Anju Methil for result-oriented PCOS treatment in Andheri, Mumbai, at The Skin & Shape Clinic. She has more than 15 years of rich experience in dermatology and cosmetology and is known for her astute diagnosis and personalized treatments.
What are the symptoms of PCOS?
Image Source: https://omnihospitals.in/what-is-pcos-and-how-can-it-be-treated/
Apart from gynecological symptoms, including heavy menstrual bleeding, irregular or no menses, and difficulty in conceiving, other symptoms are:
Oily skin
Acne
Hair thinning or hair loss
Excess hair growth on the body and face
Abnormal weight gain
Dark patches in the folds of your skin
Skin tags
What's the way forward in treating PCOS?
Image Source: https://www.johnscreekchiropractic.com/lifestyle-change-program/
Dr. Anju Methil, a leading dermatologist in Andheri, Mumbai, states that it is necessary to realize that altering your lifestyle is the most effective way to address your cosmetic problems.
She has shared a few points that can assist in reducing the abovementioned PCOS symptoms:
Reducing weight
Consuming a balanced, healthy diet
Minimizing stress
Exercising regularly
Having adequate sleep
In addition to lifestyle changes, you should take proper medications to treat the underlying issue.
How can you resolve the visible aesthetic symptoms of PCOS?
For aesthetic symptoms, you will have to visit a dermatologist who can help you manage and reverse the harm done by PCOS. They will prescribe topical and oral medications and, if necessary, recommend procedures to deal with the symptoms effectively.
Check out the treatment options for treating different symptoms of PCOS.
Acne
Image Source: https://www.medicalnewstoday.com/articles/chemical-peels
Generally, for treating acne, a dermatologist may provide the following treatment:
Mostly, they start the treatment with topical medications to decrease bacterial proliferation and oral medications to control the production of sebum.
If the acne outbreak is severe, the dermatologist may suggest chemical peels that give excellent results.
Acne scars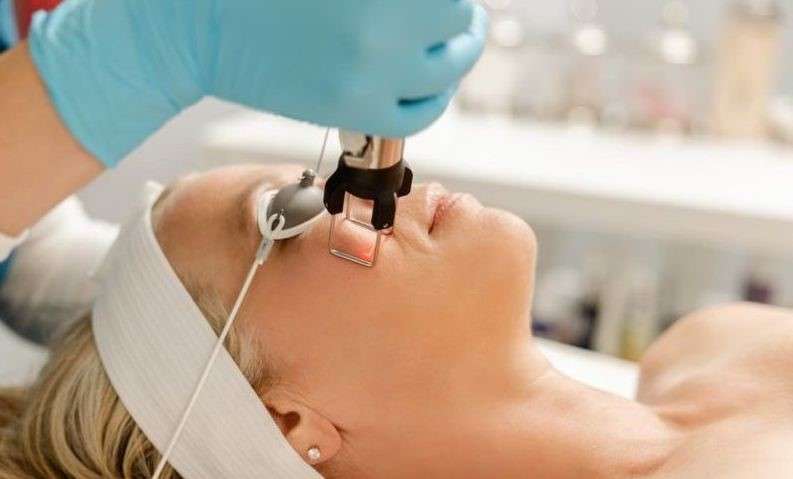 Image Source: https://www.mybiospa.com/treatments/laser-skin-rejuvenation/co2-laser/
Depending on the severity of your scars, the dermatologist will suggest an appropriate treatment. For superficial spots, topical medications are enough.
But for deep and stubborn marks and scars, the specialist may recommend cosmetic procedures, such as:
Deep chemical peels and Nd Yag lasers help to minimize the pigmentation marks.
In case of acne pits and scarring, the dermatologist may suggest CO2 lasers and micro needling. The CO2 laser is the latest treatment option that removes the thin outer layers of skin without harming the surrounding area.
Dr. Anju Methil is considered one of the best skin specialists for PCOS treatment in Andheri, Mumbai. She is an expert in laser treatments and chemical peels.
Unwanted hair growth on the face and body
Image Source: https://elements.org.uk/treatment/laser-hair-removal/
Laser hair reduction is the most effective way to control excessive hair growth on the body and face. This technique significantly reduces hair growth by destroying hair follicles from their roots.
Dark patches in the folds of your skin
Due to PCOS, you may experience dark patches in the folds of your skin, especially in areas such as the neck, armpits, and groin. To help overcome it, the dermatologist may treat it with:
Topical treatments include antioxidants and glutathione.
Apart from that, the doctor may even use chemical peels and Nd Yag laser treatment for a better outcome.
Female pattern balding
Image Source: https://tebmedtourism.com/hair-mesotherapy/
Female pattern balding is one of the most prevalent symptoms of PCOS, which various advanced treatments for hair restoration can manage.
Mesotherapy and PRP are both top-rated treatments to boost hair growth. In these treatments, the dermatologist injects growth factors and rich plasma taken from your blood into the scalp that helps hair growth by improving blood circulation and providing vital nutrients.
For extensive hair loss, the specialist may suggest hair transplantation, which gives natural, and permanent result.
Skin tags
Skin tags are painless, benign growths usually found in the armpits, neck, eyelids, and upper chest. The dermatologist can easily remove them with procedures like cryotherapy, RF cauterization, and CO2 laser treatment.
It is strongly recommended not to try OTC medications and home remedies to overcome PCOS. This condition needs proper medical treatment and help from an experienced dermatologist to manage it effectively.
You can visit The Skin & Shape clinic for comprehensive, safe, and result-oriented treatments. Even the PCOS treatment cost in Andheri at the clinic is affordable.
So, what are you waiting for? Book an appointment right away for first-class PCOS treatment in Andheri.