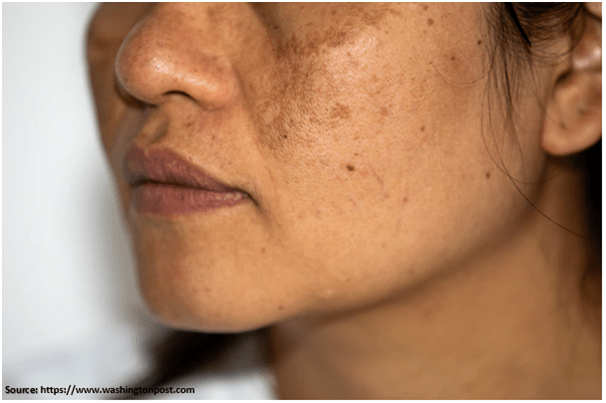 Looking at yourself in the mirror, you see some changes. Oh ! a pimple! Nothing to worry about? Of course, nothing to worry about. It heals itself. But what happens next is the appearance of the dark spot. How? Simple-post inflammatory hyperpigmentation. Various treatment procedures are carried out by renowned dermatologists in skin clinics in Mumbai.
What is post-inflammatory hyperpigmentation? Let us get to know.
Once the Pimple heals, it causes the skin to thicken, and the melanin gains color, causing the dark spots. Not only pimples, but any kind of injury that damages the tissue will leave a scar. These scars start getting lighter over a period of time, but again how much time it takes to heal itself is unknown.
Well, well, you should be worried but not too much. These are treatable, and one of the best dermatologists in Andheri itself can help you heal.
Sitting at home and worrying about this condition does nothing to solve the problem but only worsens it. Although these conditions are not fatal to you, it matters the most.
You wake up in the morning, look in the mirror, fall in love with yourself because you like what you see.
Scars and spots on the face are what everyone notices immediately, including yourself.
A feeling of depression slowly seeps in when you don't like what you see. So, continue to like what you see. Take matters in your hand – meaning your mobile phone, search for the very best dermatologist and skin clinic in Andheri and leave the rest to the doctor.
CAUSES OF POST-INFLAMMATORY HYPERPIGMENTATION
Hyperpigmentation is caused probably by
Sun exposure – overexposure to the sun may generally cause tanning, but people with sensitive skin develop rosacea – reddening of the skin, rashes, and inflammation.
Pimples – it is a common problem in young adults and people undergoing hormonal changes. While keeping the face clean with regular face wash may keep the infection in control, it may not be enough, and medical intervention is required.
Cuts and burns – Scars are formed when cuts and burns heal. Topical treatments do help, but under the guidance of a dermatologist.
Your dermatologist will assess your skin and will administer the most suitable treatment to you.
HOW TO TREAT HYPERPIGMENTATION
The line of treatments may be one or more of these based on the severity of the skin condition.
Your dermatologist may prescribe one of the following based on the assessment:
Lightening creams
The doctor may use any of these Creams with any of the following ingredients for the treatment.
Hydroquinone
Vitamin B 3
N acetlyglucosamine
These are recommended for healing patches of discoloration.
FACE ACIDS
These work by exfoliating the top layer of your skin(the epidermis), helping in the regeneration
of new skin cells, making the skin soft and radiating. These may contain
Alpha Hydroxy acids
Kojic acid
Salicylic acid
Vitamin C
These work well on mild forms of hyperpigmentation
CHEMICAL PEELS
A properly cleansed face is given a coat of mask made of any of these ingredients, such as Azelaic acid, Kojic acid, ascorbic acid, arbutin, and phytic acid.
Your dermatologist will give you instructions to remove the mask after a given time and follow it with applications of creams. This procedure also helps to heal deep scars.
LASER PEELS
Laser beams target hyperpigmented areas for removing scars.
DERMA ABRASION
This process is carried out by the best of dermatologists. Not only is the epidermis removed, but it also treats the dermis. This process is used for deep scar removal.Ensure that you visit the very best dermatologists for this procedure.
MICRO DERMA ABRASION
This process is carried out by your dermatologist using a tool to remove the epidermis, leaving behind soft and radiant skin.
While all of the above methods are effective, they have their own timeline before showing results. While skin applications are effective, they take a longer time. The same results can be obtained by going in forMicrodermabrasion, Dermabrasions, or laser Peel. These can give the same or maybe even better results in comparatively lesser time and with lesser side effects since the chemicals used are fewer.
Once the procedure is done, continue taking care of your skin with regular use of sunscreen.
CONCLUSION:
Your health and wellbeing are in your hands. Whatever changes you observe in your body, take action in time to keep the effects to minimum. Dark spots or hyperpigmentation if treated in time, can give good results.
So, what are you waiting for? Get that appointment with best of the dermatologist of Andheri in this famous skin clinic.
"HAPPY GLOWING"