In our quest to look young, we always look for ways to ward off wrinkles and fine lines. We invest in facials and buy creams and serums to keep them at bay.
But ageing is a part of our life, and eventually, we will get them. That's perfectly okay. The laugh lines and eye crinkles look endearing and just as beautiful as smooth, supple skin.
In this article, Dr Anju Methil, a prominent dermatologist in Andheri, Mumbai, has helped us understand the different types of wrinkles and ways to slow them down.
She states that the wrinkles and furrows that adorn our faces occur due to ageing skin, genes, and lifestyle. They can be divided into two types:
Dynamic wrinkles – These wrinkles form due to repeated facial motions.
Static wrinkles – They occur due to loss of flexibility, elasticity, and gravity taking control. Over the period, dynamic wrinkles can turn static.
Some people embrace wrinkles as a natural part of the ageing process. However, occasionally you could get wrinkles before time, making you appear older than you are.
If you wish to smooth out some of the wrinkles on your face, visit The Skin & Shape Clinic, a premier skin clinic in Andheri, Mumbai, founded by Dr. Anju Methil for advanced and effective anti-wrinkle treatments.
They are experts in surgical and non-surgical treatments and procedures that give excellent results. Read on to learn about different types of wrinkles and treatments to minimize them.
Different types of facial wrinkles
Glabellar lines
They are small, vertical lines between your brows that continue to your forehead and are approximately a centimetre in length. Generally, they are the first lines to appear, mainly in your 20s. They are also known as 11s because of their parallel form.
Crow's feet
The muscles around your eyes work when you grin, frown, squint, or laugh. The action of these muscles causes fine lines to develop from the corners of your eyes since the skin around your eyes is considerably thinner than the rest of your face.
As you become older, your skin's elasticity slowly declines, which causes the lines around your eyes to become more profound and eventually form crow's feet.
Smile lines
Smile lines or laugh lines are the ones around your mouth. They develop from the outer corners of your nose to the corners of your mouth.
Everybody gets these lines at some point, which is why smile line procedures at the Skin & Shape Clinic are popular.
Marionette lines
The lines that run from the corners of your nose to the corners of your mouth are known as laugh lines. When these lines continue down the mouth to the outside of the jawline on either side of the chin, they are referred to as marionette lines.
Depending on hereditary predisposition, they may appear on the face as early as your 20s and 30s. Still, they normally become more apparent in women in their middle years and later. They can give the face a pouty appearance because of their drooping characteristics.
Treatment options
Many wrinkle treatment methods are available to help reduce their visibility or smooth them out.
Botox
For reducing the look of glabella lines, smile lines, or crow's feet, Botox is a fantastic procedure. These lines are softened by Botox, which gradually relaxes the muscles in the skin. Dr. Anju Methil, an experienced cosmetologist in Mumbai, is an expert in giving people natural and revitalizing outcomes.
Dermal fillers
Dermal fillers are an extremely effective therapy for marionette lines, deep glabella lines, smile lines, and crow's feet. This procedure carefully fills in the wrinkles to provide skin with a smoother appearance, which can be transformative in softening the expression and making the wrinkle appear much less prominent.
Laser resurfacing
The dermatologist uses laser resurfacing to remove the topmost layer of your skin in order to reveal the smoother, younger-looking skin beneath. It also stimulates collagen growth, making your skin more supple and firm. This treatment is not practical for sagging skin.
Chemical peel
In order to remove the top layers of the skin, your doctor applies a chemical solution to the skin. Depending on how deep the peel was, you may require several treatments to observe a change in your skin.
Dermabrasion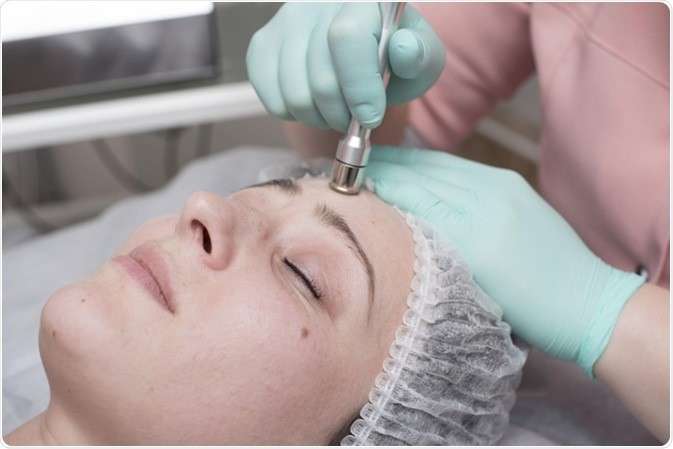 Dermabrasion is a treatment where a dermatologistuses a quickly revolving brush to sand the top layer of your skinto reveal smoother new skin.
You will need a few treatments to notice a significant improvement. It works wonders for skin issues such as wrinkles, melasma, acne scars, fine lines, etc.
Micro needling
This treatment may be the best option if you want a minimally invasive procedure with a short recovery period. The dermatologist uses a specialized device with numerous minute needles to roll over the area where crow's feet appear.
It activates the skin's healing mechanisms and collagen production, resulting in tighter and more elastic skin growth.
Facelift
A facelift or rhytidectomy involves surgery to tighten and lift the facial tissues. During the procedure, the doctor may remove the extra skin, tighten the facial tissue, and smoothen the wrinkles and folds. People opt for a facelift for various reasons, the most common being minimizing the signs of ageing.
Eyelift surgery
Eyelift surgery or blepharoplasty is mainly opted for by older adults to reverse the signs of ageing around the eyes. Due to age and loss of fat, deep crow's feet appear.
Depending on your requirement, the doctor may perform the procedure on the upper or lower eyelids. The surgery offers long-lasting outcomes.
Bottom Line
There are skin treatments you can try to make the skin look smoother if you are worried about how wrinkles affect your appearance.
You may want to talk to a dermatologist about cosmetic procedures to make your wrinkles less obvious. Schedule a consultation with Dr. Anju Methil, a leading dermatologist in Andheri, Mumbai.
She will develop a treatment strategy tailored to your needs, utilizing the most advanced treatments and procedures that are most appropriate for you.