Skin Treatment in Andheri West, Mumbai
Get the safe and most effective skin treatment in Andheri by Dr. Anju Methil at Skin and Shape Skin Clinic. Dr. Anju Methil is one of the best skin doctors in Mumbai. She provides various treatments and procedures to enhance skin health and beauty at every stage of life.
At the Skin and Shape Clinic, Dr. Anju Methil, one of the best skin doctor in Mumbai, offers individualized options to turn back the hands of time on your face, skin, and body and reverse the visible signs of aging.
We make no claims to be able to stop the natural process of aging. It has been observed we can improve the condition in 90% of cases, and in 50% of cases, we can reverse the condition with the proper treatment.
Dr. Anju Methil is a renowned dermatologist in Mumbai. She provides a variety of treatments and procedures to enhance skin health, functionality, and beauty at every stage of life.
In addition, she is well-trained to treat skin and soft tissue with surgical and non-surgical cosmetic procedures that are medically necessary.
Various dermatological conditions can be addressed with a wide range of skin treatments and cosmetic techniques. These can make your skin look and feel better.
This article describes some of the skin treatments, their procedure, and the outcomes you can expect.
Acne Treatment at Skin and Shape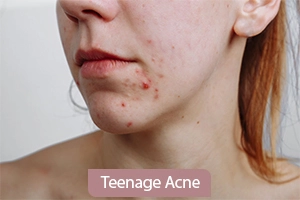 Different Types of Skin Treatments
Dr. Anju Methil, one of the best dermatologist in Mumbai, recommends skin treatment options based on what you want to improve, how long you want the treatment results to last, and how much recovery time you can afford.
We have listed some of the most effective skin treatments below:
Microdermabrasion
Microdermabrasion helps eliminate and lighten age spots and acne scars. It is one of the most popular treatments for wrinkle reduction. The doctor sprays tiny crystals onto the skin's surface using a hand-held device.
The crystals remove the top layers of skin while simultaneously sucking out the dead skin cells and crystals. It is a quick procedure. More than one treatment session may be required to achieve the desired outcomes.
Chemical Peels
Chemical peels, also known as derma-peeling, are frequently used as an anti-aging treatment to rejuvenate the skin. Chemical peels help improve the skin's color, texture, and fine lines and remove sun damage-related spots.
Laser Resurfacing 
This skin treatment helps remove the damaged outer layers of the skin. The laser resurfacing procedure promotes the growth of new skin cells and collagen in the deeper layers of the skin. Wrinkles and fine lines on the face and neck can now be reduced or removed using laser resurfacing.
Laser Skin Rejuvenation
Infrared light is used in advanced wrinkle reduction procedures like laser skin rejuvenation to tighten skin without surgery. The skin appears tighter due to the laser light's heat delivery to layers beneath the epidermis.
Since there is no need for anesthesia, a scalpel, or any recovery time following the procedure, many patients consider it a good substitute for a conventional facelift.
Intense Pulsed Light (IPL) Therapy
It is a facial rejuvenation procedure used to reduce the effects of aging and sun damage. Skin imperfections like enlarged pores, brown spots, freckles, uneven pigmentation, and wrinkles can be removed with IPL treatments. You can return to your regular activities immediately after your IPL procedure.
Dermal fillers
Dermal fillers are primarily used to reduce the appearance of fine lines and wrinkles. Age causes our skin to thin out and become more prone to wrinkles. To compensate for volume loss, dermal fillers can be injected into the cheeks, lips, and area around the eyes. Fillers make aging skin look better and give it a younger, brighter appearance. Results are not permanent but typically last between six to 18 months.
Botox
It involves injecting Botulinum toxin into the facial muscles. The most common uses of Botox are to smooth out wrinkles and fine lines. Botox injection causes muscles to relax and briefly destabilizes them. As a result, the wrinkles loosen up and look better. Typically, Botox is injected into frown lines, crow's feet around the eyes, and the neck area. Results last for three to six months.
Micro needling
Micro needling, or percutaneous collagen induction, is a minimally invasive skin treatment. It is beneficial for several skin issues, including:
minimizing the visibility of scars
reducing stretch marks
reduction of enlarged pores
making skin texture better
During this procedure, your skin will be carefully punctured with a specific tool comprising tiny needles. It helps produce new collagen and elastin by utilizing your body's natural healing process.
Before undergoing any treatment, please speak with your dermatologist in Mumbai to ensure it will be effective on your skin and safe for you.
Contact or visit Skin & Shape Clinic for more details on our advanced skin treatment in Andheri. The treatments start with a consultation with Dr. Anju Methil, a seasoned skin doctor, and cosmetologist in Mumbai, to determine the best course of action for your skin.
Frequently Asked Questions
Since UV exposure is the leading cause of hyperpigmentation, shielding yourself from the sun's UV rays and wearing SPF protection will help prevent it'd. Anju one of the dermatologists in Mumbai will definitely help you.
The most common cause of dark spots and hyperpigmentation is sun damage, which can be avoided by wearing sunscreen and avoiding direct sun exposure. A dull appearance can also result from dry skin, lingering oil, dirt, and makeup. Make sure to wash and moisturize your skin every day.
Yes. If you have acne, wearing makeup is acceptable. Make sure to select non-comedogenic products to avoid pore clogging.
If your skin is dry and flaky or has had more sun exposure, peels should not be used. People with a history of facial warts and cold sores should proceed cautiously.
Moisturizers for acne-prone people must be non-greasy. The cleanser should be non-irritating and gentle. Scrubs must be avoided entirely.
No, it cannot affect the natural aging process. However, as soon as the Botox effect wears off, the muscles' normal course of action takes over, and lines and wrinkles appear again.